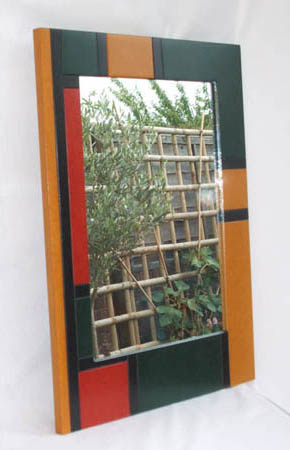 These pieces owe their inspiration to Mondrian and a keen desire to recycle 'waste' materials.
Made from offcuts of Valchromat
®
left over from a kitchen table, cupboards and a bed. A solid sheet was assembled and then the opening cut for the mirror.
Valchromat® is often described as 'good' or 'green' MDF. It is a wood fibre board, coloured throughout using organic, vegetable dyes. The wood is sourced from forest waste, residue from timber mills and recycled pine. The manufacturing process is very environmentally friendly and the production site (in Portugal) has zero carbon emissions. It is also worth mentioning that it carries UK and EU certification for nursery furniture
The mirror came first but when we were asked to make a toybox that would be eyecatching and appealing to a small child, while not looking out of place in an evening living-room setting, this seemed to fit the bill. The box has been fitted with a plethera of hardware, damping and safety devices to save little fingers from serious damage.